My 2nd blog – hopefully shorter than my first…
The story starts with City of Edinburgh Council (CEC) putting forward exciting plans for new East West cycle route from Roseburn in the West through the heart of the city to Leith Walk.
http://www.edinburgh.gov.uk/roseburntoleith
On the face of it they look pretty good, not perfect but a huge improvement from what we currently have, and they will create a safe route for me, my kids & others to get into and across the City Centre.
As a bit of background & why it is important
I live and work in West Edinburgh and commute daily by bike dropping my kids off on route.  I would say that I'm fairly confident on a bike doing 6,000miles in 2015 with 2,000 on the kiddie run, however, the City centre is not accessible to me as the reasonable good Quiet Route 9 ends at Roseburn (great for accessing NEPN) but then becomes fiddly to get to Haymarket Yards and then you have to tackle tram lines at a very acute angle before being dumped at Haymrket with nothing but signs to keep you safe.  The net result, I rarely cycle into town and definitely not with the kids.
And it's not just me.  I work for a large financial services company based in West Edinburgh and have been active in out Bicycle User Group in encouraging more colleagues to cycle to work.  We've run roadshows where we explain where the showers are and how to get a locker etc but the most important question is always what's a safe route.
For those coming from North Edinburgh we have the NEPN (old railway line) and for South Edinburgh we have the canal towpath – both offer safe offroad routes.  However, for those in and around the city centre and East End, there isn't an enticing option for new cyclists so many don't start.
The cyclepath proposed with a protected lane through Roseburn Terrace and West Coates and on through the city would solve these problems by giving a direct and safe route.  Look what has happened in London following opening of the Embankment protected lane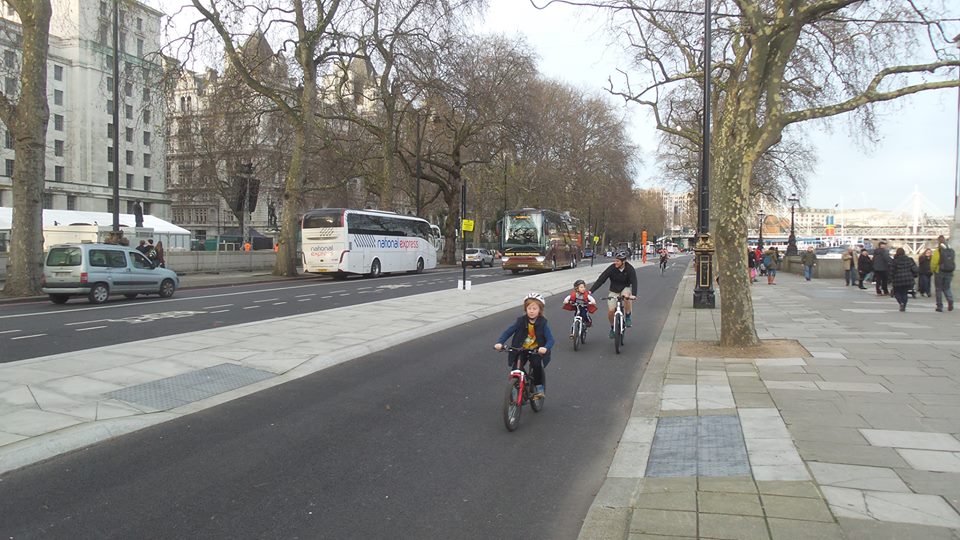 This could be Edinburgh.
I appreciate that change can be scary and that some want to keep the status quo.  But I can't see how that can be the right answer when just along the A8 at St John's Road we have the most polluted street in Scotland & overall air pollution leading to 2,000 premature Scottish deaths. We also have a growing obesity problem [Obesity costs Scotland up to £4bn, says parliament report].   We need to do more to make cycling a valid alternative to motor vehicles.
Some of those expressing concerns on the scheme are the shop keepers of Roseburn Terrace.  I can understand their apprehension – surely all customers come by car and any reduction to this ability will impact trade…
Studies across the world have shown that this isn't the case
http://www.citylab.com/cityfixer/2015/03/the-complete-business-case-for-converting-street-parking-into-bike-lanes/387595/
Here's what they found when the compared estimated customer travel modes with actual travel modes in Graz, Austria and Bristol, England.
Yes, people do come by car, but many others arrive on foot or by bike. These are the people who will find it easier to pop into the shops as they don't have parking issues.  Pushing the cycle route round the back of the shopping street will not do anything to make the street a more pleasant environment or to encourage these potential shoppers to stop in.
An online and paper petition has been set up against the route going down the main road between Roseburn & Haymarket. Of the signatories, includes 2 local Councillors and an MSP. One of the Councillors signed it because he was "Representing constituents and avoiding wasting council cash"
To highlight that many constituents are also in favour of the scheme, I set up a supportive  Petition.
I didn't do it to dismiss the views/concerns of those signing the first one – but to encourage our elected representatives to consider opposing views of the community based on evidence when coming to their conclusions. Hopefully some of the evidence above will help them come to their conclusion.
I'd encourage you to review the consultation and to support the proposals – especially for the direct route along Roseburn Terrace and West Coates.
You can do this via the online form or by emailling cyclingprojects.consultation@edinburgh.gov.uk by Monday 1st February.
—–
Update 11th Jan – The supportive petition is now 230 names strong.  I'd encourage you to sign it and view the comments.
—–
Read my next blog on the politics of cycling in Western Edinburgh